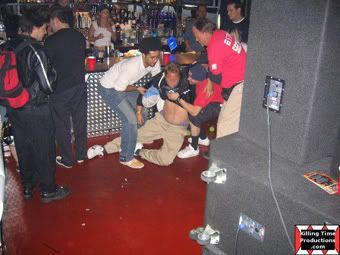 Da Realist:
from
this article
After the game, after the TV cameras had left, and a few reporters still hung around him, Jackson said he expected to make the playoffs.

"I still think we're going to end up with the Suns in the playoffs," he said. "That's my own predilection. That all being said and done, we have to right ourselves and find a way to play basketball games together."

The Suns, who received 26 points and 14 assists from Steve Nash, didn't seem too concerned about playing the Lakers in the first round, if that were the case.

"I don't think it would go seven," Suns center Amare Stoudemire told reporters in Phoenix a day before the game. "I think we would take care of them pretty quick, hopefully, if everything goes as planned."

Waldini:
you'll get no argument from me :-)
Gangsta D:
Me either. Like Snoop said, "If the truth hurts, go to church."
Why does Agent Kujan continually try to get a rise out of us yo? lol
Waldini:
Like I told Realist back when we were in college, there are fans who pick with their brains and fans with pick with their hearts. If I was the latter, I pick the Lakers in 7 with Kobe hitting the game winner in OT.
But I'm not :-). You go 14-26 since Jan, including a recent stretch where you have lost 7 of 8. Add in Kobe scoring 50 plus 4 straight games against inferior comp just to win close games and you know the signs aren't good. This team has no confidence and a few players dont even believe in the Zen anymore.
Da Realist:
here's the thing. you could beat phoenix. if you rebound and play defense like you did in the fourth quarter for the entire game, it could happen. in '89, chicago lost all 6 games to cleveland in the regular season and beat them in the first round.
i'm surprised you two overly optimistic laker fans are finally a little pessimistic.
Gangsta D:
We're not pessimistic, we're realistic. You show optimism when you've been given a reason. I mean the Lakers COULD beat Phoenix. I COULD become the next great action star. It's possible because physics allows it. Yet both are highly unlikely. If we'd won 6 out of 8 down the stretch, something like that, I'd be optimistic. But I have NO reason to be. Of course we have to actually MAKE the playoffs first.